Hyacinth Care and Treatment Programs
People living with HIV have a variety of physical, psychosocial, and material needs. All of Hyacinth's Care and Treatment Services, in alignment with federal Health Resources and Services Administration (HRSA) requirements, are designed to improve the health and achieve health equity for people who are geographically isolated or economically/medically vulnerable. We serve all people, regardless of background, at our eight centers throughout New Jersey.
Non-Medical Case Management (Paterson, Jersey City, Newark, Plainfield, Trenton)
Emergency Financial Assistance (Jersey City, Plainfield, New Brunswick, Trenton)
Community Health Worker Program (All Offices)
Housing Placement Assistance (Newark, New Brunswick)
Individual & Group Substance Abuse Counseling (Paterson, Newark)
Individual Mental Health (All Offices)
Legal Client Advocacy (Jersey City, Newark)
Medical Case Management (Paterson, Newark)
Mental Health Groups (Wellness groups) (All Offices)
Psychosocial Services (All Offices)
Our Newark office hosts the Hyacinth Health & Wellness Center where HIV medical services as well as PrEP treatment are offered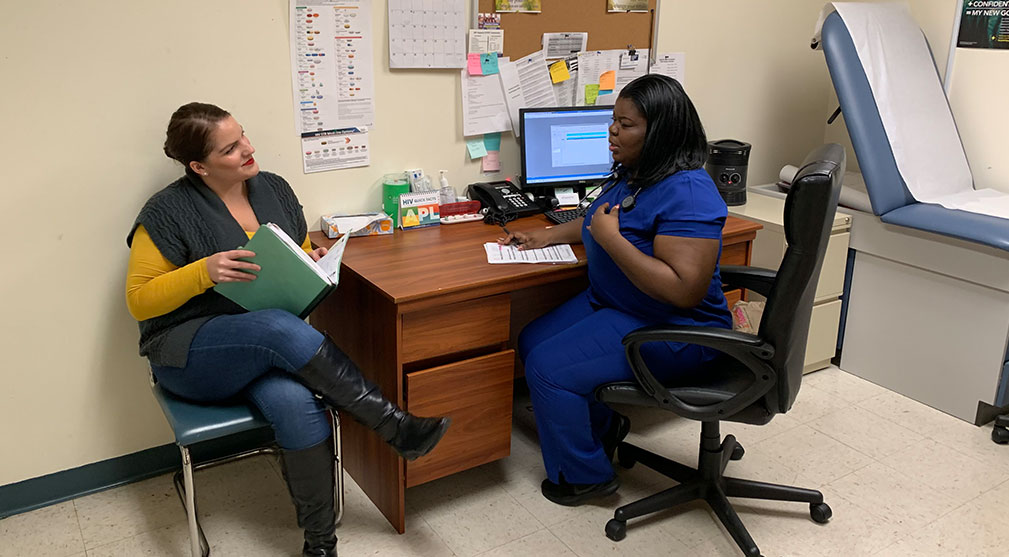 NON-MEDICAL CASE MANAGEMENT assists clients with daily living activities and helps them identify and obtain medical, social, community, legal, financial, and other needed services. An Emergency Financial Assistance fund can help clients pay for utilities and rent.
MEDICAL CASE MANAGEMENT (MCM) connects clients with healthcare, psychosocial, and other services and provides:
initial assessment of client's needs;
development of a comprehensive, individualized service plan;
coordination of services required to implement the plan;
assessment of the plan's efficacy; and
periodic reevaluation and adaptation of the plan.

INCARCERATED DISCHARGE PLANNING – Hyacinth staff visit HIV-positive inmates in Essex County Jail, Middlesex County Correctional Facility, Mercer County, Edna Mahan Correctional Facility, and East Jersey State Prison who are nearing release. They help connect these inmates to healthcare and other resources such as housing, recovery, and other support services and groups, and provide follow-up assistance.
COMMUNITY HEALTH WORK – People Living With HIV/AIDS (PLHA) sometimes stop seeing doctors or following their treatment plans for a variety of reasons. They need a helping hand to get back on track. Community Health Workers collaborate with local clinics to reach these clients and reconnect them with treatment and supportive services as well as educate newly diagnosed patients.
HOUSING PLACEMENT ASSISTANCE assists clients who are homeless, being evicted, or living in transitional housing, shelters, and inadequate housing conditions. Housing Placement Specialists locate and offer access to permanent housing in the Newark area and assist with housing stability, access to medical care, and independent living.
PSYCHOSOCIAL SUPPORT – Client Services Managers (CSM) work individually with clients to address concerns in a safe space and develop a personalized plan of action that may include referral to clinical mental health services. The CSM communicates with the client's Medical Case Manager to keep them aware of the psychosocial services the client is receiving and any referrals that were made. The CSM will also facilitate monthly health literacy skills building groups that address barriers to care.
MENTAL HEALTH AND COUNSELING – Our Mental Health Counselors are licensed therapists who, through The Wellness Community at Hyacinth, lead mental health group and individual sessions for clients.
WELLNESS NAVIGATION (WN) provides an atmosphere of community among the members of the TWCH program. The WN calls members weekly to invite them to upcoming mental health meetings; the staff builds relationships with community providers and reconnects clients who lost touch with the program. The WN also offers weekly social activities that encourage social skills and fraternity.
HYACINTH CAR SERVICE – Client Services Managers at each Hyacinth office can arrange Uber service for qualifying clients who need transportation to medical appointments or supportive services.
Health and Wellness Clinic
Hyacinth's Health & Wellness Clinic, located at 194 Clinton Avenue in Newark, takes a team approach to specialty care, pre-exposure prophylaxis (PrEP) and STD testing and treatment. A full-time nurse practitioner, clinic nurse, medical case manager, and PrEP counselor work together to provide:
HIV specialty care
HIV testing
Sexually transmitted diseases/infection testing and treatment
PrEP education and prescribing
Psychiatry and mental health evaluation and treatment
Medical case management
Sexual health education
In addition, a partnering pharmacy, Bergen Pharmacy, is located at the same address.
To learn more about the clinic, call 862-240-1461.
Your commitment and generosity helps us in the fight to end the HIV/AIDS epidemic in New Jersey. No act of generosity is too small. Join us in making a difference in the lives of over 38,000 people.
Wellness Community at Hyacinth
An HIV diagnosis can bring many emotions – worry, fear, sadness, and even anger. You don't have to deal with those emotions alone: The Wellness Community at Hyacinth (TWCH) helps people living with HIV find control, hope, and community through group discussions and opportunities to meet privately with a counselor. In addition, clients can explore complementary and alternative practices for maintaining their sense of wellness. TWCH services include: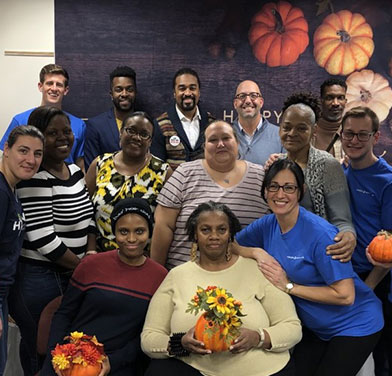 Social and emotional support groups
Weekly mental health group counseling
Co-ed Wellness Group
Women's Wellness Group
Men's Wellness Group
Individual mental health counseling
Individual and group substance abuse counseling
Help us to help you embrace and discover wellness, address unwanted loneliness, and enhance your sense of control. Find HOPE!
If you are living with HIV and interested in participating in The Wellness Community at Hyacinth, please contact your closest regional office.